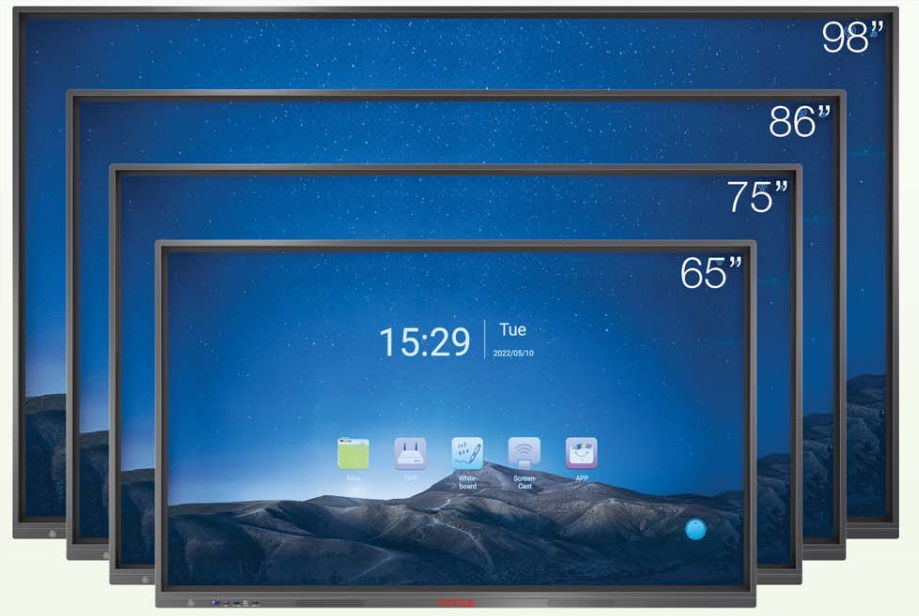 Interactive Flat Panel - Title Display System
65" / 75" / 86" / 98"
Title Display System The 4k HD Interactive Flat Panel has integrated high-quality speakers and a touch screen. We produce big size touch panels to improve the total collaboration, interactivity, and audio-visual effects of a classroom, meeting space, conference room, and virtual studio. You may access all the applications (browser, annotation software, educational apps, etc.) on an interactive flat panel, which is similar to an enlarged tablet. The basic smart class model of the interactive whiteboard and projector has been upgraded to a touch panel. Users may write, draw, annotate, and save documents on the touch screen itself with this all-in-one solution. Additionally, it includes a built-in sound speaker that fully satisfies the needs of users.
You are no longer required to bother about projector maintenance or lamp replacement. The cost of an interactive flat panel changes depending on size; it is a one-time expenditure. Our models are IIFD55, IIFD65, IIFD75, and IIFD86, and we provide touch panels that are 55 inches, 65 inches, 75 inches, and 86 inches. In our plant in India, we produce interactive flat panels with great accuracy and precision. Our touch screens are capacitive touch displays that can be manipulated with a finger, dummy pen, or any other opaque object. They have a 20-point touch screen and use Title Display System. Using our fantastic service network, we operate over all of India.
Interactive Flat Panel
A large-format touchscreen show referred to as Associate in Nursing Interactive Flat-Panel show (IFPD) is ideal for conference rooms and alternative cooperative settings. it's Associate in Nursing upgrade over clumsy or outdated projector technology, with an improved show, improved property, and integrated package solutions.
These solutions are ideal for work-related endeavours, academic studies, and even leisure time at home. The benefits of an interactive flat-panel display include outstanding screen quality, integrated software, and many more.
---
Key Elements of Interactive Flat Panel
Applications of Touch Panel:
Outstanding Virtual Studios
Interactive Video Classrooms for Collaboration
Optimized Business Meetings
Excellent Virtual Studios
Specifications:
Title Display Interactive Flat Panel
| | |
| --- | --- |
| Size | 86¡¯¡¯ Diagonal |
| Aspect Ratio | 16:09:00 |
| Backlight Technology | DLED |
| View Angle | 178 Degree |
| Touch Induction | INFRARED (IR) |
| Touch Point | 20 Point Touch |
| Response Rate | 8 ms |
| Resolution | 3840¡¿2160 |
| Contrast Ratio | Mega Contrast Ratio |
| Brightness (nits) | 350 |
| Power Consumption | 145W |
| Power Supply | AC 100V-240V 50/60Hz |
| Speaker Inbuilt | 10W x 2 + 15W x 1 |
| Mounting kit | Wall mount Kit |
| Port | HDMI1.4 & HDMI2.0, HDCP1.4 & HDCP2.2, USB |
| Communication Port | USB (Touch) x 1 |
A smart class solution, Interactive Touch Panel operates for years with unmatched brightness and requires no upkeep. Touch Panel satisfies all of your requirements, including those for idea sharing, fluid writing and annotating, playing HD films, and running high-quality audio files. In other words, an interactive display panel improves the learning environment by giving students and teachers access to real-time learning and instruction. Furthermore, everyone can afford touch panel pricing.
---
Ultra-narrow profile 13.3 mm frame
4K UHD 178 Degree° Display with Viewable
High-precision infrared 20 point touch
Support en & Finger touch
Reserved for the OPS interface
HDMI , Antenna hidden inside
Easy switching between dual systems
Standard anti-glare and tempered glass
Support wireless screen share
Smart panel software included
In built Wi Fi and Bluetooth in Android
Scan QR code to connect mobile phone
---
Remote video conference
Efficient communication any time and anywhere, real-time screen sharing, barrier-free communication and presentation, meeting appointments, screen sharing/multi-party comments/multi-terminal participation/oneclick minutes synchronisation.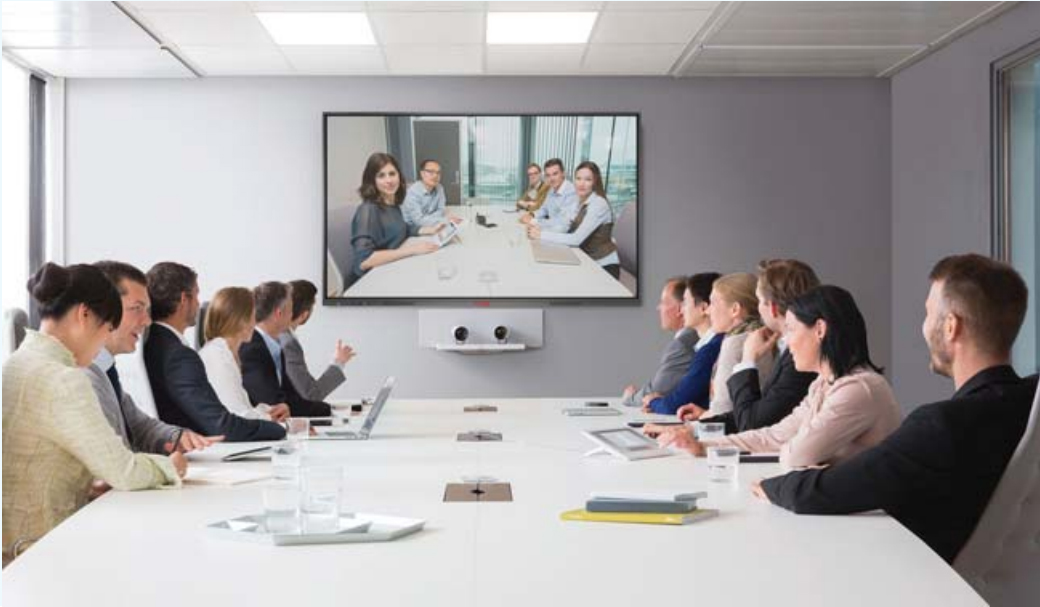 ---
Multi-screen Interaction
Compatible with multiple third-party sofware to support multi-screen interaction such as tablets, mobile phones, Notebooks, Desktop-Pc and etc., ensuring that meeting are stable and efficient.
---
Movable Stand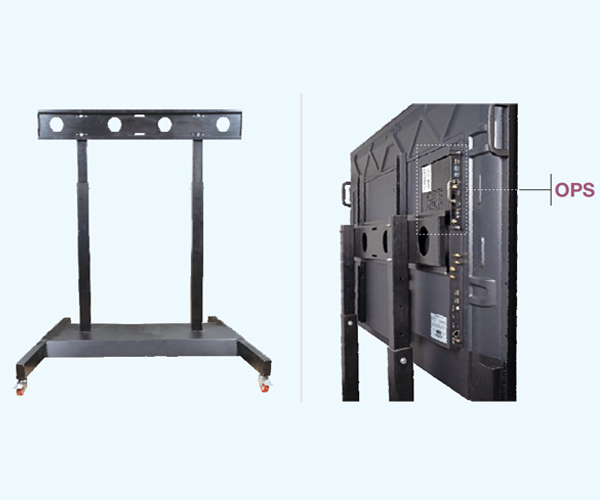 Wall Mount